WE REALISE YOUR IDEAS
Metal elements for the point of sale
Anyone who uses metal elements in shop fitting has an endless variety of options for setting aesthetic and individualised accents and at the same time meeting requirements for robustness, hygiene and durability. For shop fitters, furnishing suppliers, furniture manufacturers and architects, we at Broki are the competent contacts for all types of construction in steel, stainless steel and aluminium.
Small and large series for food and non-food
Stage your products well: Whether entire shop fitting systems, furnishing elements, room dividing elements, wall systems or presentation stands at the point of sale –our specialists construct and produce metal elements in small or large series for every demand in the food and non-food-field.
Hand in hand, from then hand-drawn sketch to the 3D-model, we work with you to develop solutions made of metal for your individual shop fitting projects. And then we fabricate the optimal metal elements for your needs with our exceptionally great depth of production. Robust, practical and in any form you want.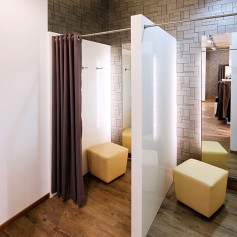 The highest form of flexibility: You determine the scope, logistics and transport
Thanks to our flexible production we can adapt our products to the system solutions from other manufacturers that may already be in place. This increases your options for rapid change and saves unneeded costs.
And you are the one who decides whether we pre-fabricate for you in master orders or may produce just in time schedule.
In questions of logistics, you can select the optimal path for yourself: Our range of delivery services includes both delivery by a freight carrier as well as by our own lorries and if you wish, directly to the construction site.