QUALITY-CONSCIOUS SUPPLIER FOR INDUSTRY
Metal elements for every need
For our industry customers, we take on the construction and production of small and large series of metal – with customised precision and mature technologies. Our production capabilities encompass the entire range of metalworking. Combined with our in-house prototype construction and tool construction, you will get metal elements from Broki that exactly conform to your specifications, from the unique prototype to the individual fabrication of small series to efficient serial production.
Through the entire process we keep our eyes on costs and benefit: Continuous investments in the most modern construction and production technologies guarantee an efficient, quality-conscious fabrication conforming to the newest state of the art.
Competent contacts
Regular continuing education, many years of experience and the requisite know-how for all conventional fabrication techniques such as laser cutting, sawing, grinding, powder coating, welding or electroplating: Our employees know exactly what is important to your project and will provide you with competent support in the selection of a suitable process.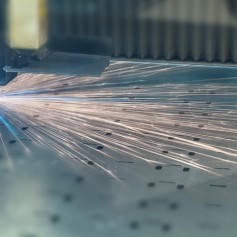 Warehoused or just in time
We are always there for you in logistics, too: You decide whether we pre-fabricate master orders for you and store them in our warehouse or if we may produce on a just in time schedule. We show the same flexibility in delivery, either through a freight carrier or using our own company lorries. On request, we can deliver directly to the construction site, of course. Direct, punctual and reliable.